St Jacques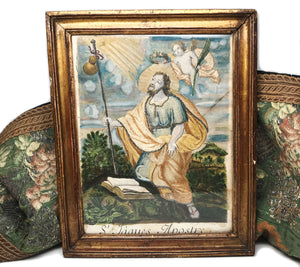 This exquisite 18th century devotional art embroidery (on copper plate engraving) portrays the story of St. Jacques the Greater.  Saint James the Apostle saw a Marian apparition as he was praying by the banks of the Ebro at Caesaraugusta (Zaragoza), Hispania, in AD 40. Each part of the scene is so vividly illustrated with heavy silk embroidery which gives depth and luminosity to the robes of the angel and St. James.
James looks to the heavens where radiant light rains down towards his face....his expression is reverent and worshipful. This type of devotional work saw a great popularity during the late 18th century in France.
Leave a comment
Comments will be approved before showing up.
---
Also in Blog
Absolutely stunning 19th Century Velvet and Silk Embroidery Ecclesiastic Vestment